Principal's Welcome.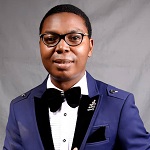 Divine Touch International School believes "A Child is the seed in the garden of environment ." Hence, the school truly serves as a light house beaconing to the rising generation of human being for health and vigour, for strength and determination, for zeal and zest; for efficiency and adjustment, for beauty and character, for pose and personality.Above all, for wisdom through knowledge. We, at Divine Touch International School, are committed to provide world class educational environment which grooms the students for all round development and preparedness for the existing global life with a strong sense of responsibility and ethics.
LIFE SURVIVES ON CHANGE, NEVER AVOID THEM RATHER ACCEPT EVERY CHANGE AS A CHALLENGE. EITHER IT WILL GIVE YOU SUCCESS OR IT WILL TEACH YOU HOW TO SUCCEED.
We try to keep the arena of the school ever lively with innumerable co-curricular activities like sporting events, competitions, exhibitions, celebrations of the games, different national and international events, career counselling workshops, and health checkups throughout the academic session. This is to set up a congenial environment enabling the learners to develop their personalities all round in complete discipline.
We know that being a parent, is the greatest blessing of life and seeing your child grow, learn and become a complete individual is a greater blessing for us.
DTIS...We Stand For Academic Excellence.